Pin It
So I received a Go! Baby Fabric Cutter from
Accuquilt
a while back and can I just tell you how much I love this machine! It's seriously rad to the tenth power.
It makes cutting out appliqués a breeze which is the part I always dislike when I want to appliqué clothing. The Go! Baby is the smaller of the two machines that
Accuquilt
offers although I think it is perfect for my appliqué needs. It uses cutting dies,
and there are tons to choose from in all sorts of shapes and sizes
, that you place on the machine and on top of the die you can add up to 6 layers of fabric. Then you just place the mat on top of your fabric and use the hand crank to roll the die through thereby cutting your fabric...so simple and easy!
One of the cutting dies I have is the
Rose of Sharon by Sharon Pederson
. It cuts the most perfect flower shape in seconds, and in all sorts of sizes! I love the versatility of this die and used the leaves and small circles in it to make turkeys to appliqué onto placemats...perfect for my Fall table decor!
Appliquéd Turkey Placemats
Two 11 x17 inch pieces of muslin
One 11 x 17 inch piece of white felt
Fabric scraps
Lightweight fusible interfacing
1 package of extra-wide double fold bias tape
Rose of Sharon by Sharon Pederson Go! Baby die
The first thing I did was to dig through my ever-growing scraps pile and ironed some lightweight fusible interfacing to the wrong sides of them. I put the scraps through the cutter to make leaves which will become turkey feathers. Then I took some felt scraps (the Go! Baby even cuts through felt...so awesome!) and made a bunch of circles in two sizes for the turkey head and body.
Then I separated the paper backing from the fusible interfacing and ironed the turkey to one corner of my placemats.
Appliqué around the feathers and the body using your sewing machine. Then hand embroider a little face and some turkey legs!
Then sandwich the piece of felt between the two pieces of muslin and sew your bias tape around the edges.
Now you've got yourself some simple and pretty Fall placemats to decorate your table...
Gobble Gobble! :-)
I just adore how these placemats turned out...they were really so easy to do using the Go! Baby. I made a whole stack in less than an hour!
Guess what?
Accuquilt
is offering 22 Free patterns when you sign up for their email newsletter! Just click
Here
to go to the form where you can enter your email address and you can start downloading your FREE patterns immediately!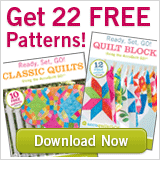 XOXO,